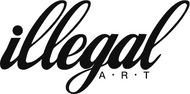 Illegal Art is an American record label founded in 1998 by an anonymous university professor who operates under the pseudonym "Philo T. Farnsworth".[1] It is best known for signing several musicians who use prominent sampling in their music, including Girl Talk, The Bran Flakes, P. Miles Bryson, People Like Us, Wobbly, and Junk Culture.[2][3] Illegal Art releases are generally released with a "pay-what-you-want" price and licensed through Creative Commons.
Farnsworth launched the label in 1998 with the release of Deconstructing Beck, a compilation composed entirely of Beck samples.[4][5] Two other theme-based compilations, Extracted Celluloid and Commercial Ad Hoc, followed; all three were co-released with American experimental music group Negativland's Seeland Records label and sponsored by RTMark. The label later shifted their focus to artist releases, finding critical acclaim with the release of Girl Talk's mashup albums.[6] The label is currently on "indefinite hiatus", though releases can still be purchased through their website.[7]
Discography
Edit
Girl Talk releases
Edit
References
Edit
External links
Edit
Ad blocker interference detected!
Wikia is a free-to-use site that makes money from advertising. We have a modified experience for viewers using ad blockers

Wikia is not accessible if you've made further modifications. Remove the custom ad blocker rule(s) and the page will load as expected.